When dealing with events between 1939 and 1945 – especially if the they are related to any kind of military operations – it quite quickly becomes necessary to have access to historical maps in order to locate, put into perspective or document these events.
In a future post, I will spend more time on elaborating on potential sources but for now, I just want to make available two maps that I have acquired on eBay lately – because I have been searching for them in vain and I see no reason why people should not benefit from me finding my sources.
Both maps have been printed in Germany in 1943 – as such, they are bearing German names and reflect the official opinion of the state in which they were produced in – and certainly and by no means reflect my own geopolitical assessment. They are provided solely as historical material.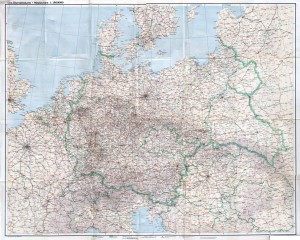 The Gea Übersichtskarte Mitteleuropa 1:1.500.000 (Gea Overview Map Central Europe) covers Europe from 2°E to 26°E and from 44°N to 57° – that is from Paris to Bucharest and from Bologna to Gothenburg.
In respect to my web site, it covers all of the then Deutsche Reich, Denmark, large parts of France and the Balkans – good enough to document most of the flying missions of the 8th USAAF over Germany. File Size is approx. 4.5MB, the map dimensions are roughly 4000 x 3200 pixel.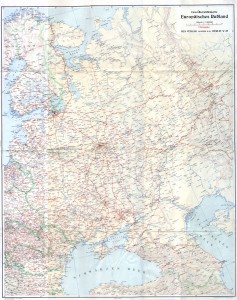 The second map is the Gea Übersichtskarte Europäisches Rußland 1:3.300.000 (Gea Overview Map European Russia). It covers an area of 20°E to 60°E and 40°N to 70°N – that is from Warsaw to Sverdlovsk and from the Black Sea to the North Cape.
This map comes in handy to understand and document German operations in the Unternehmen Barbarossa  – the attack on the Soviet Union. File size of this map is approx. 4MB, the dimensions are roughly 3300 x 4200 pixel.
I surely hope both maps come in handy at times and make access to the historical events easier – especially with the names now given as they are used in other historical sources of the time. Please understand that I cannot (and will not) provide the full-resolution maps as their sizes are well above 150MB each.