Today, I was fortunate enough to get my hands on a flight log original which once belonged to Helmut Nehls, Gunner on board of Ju 88 and Ju 188 Long-range Reconnaissance aircrafts, flying with 2.(F)/123 and 3.(F)/33.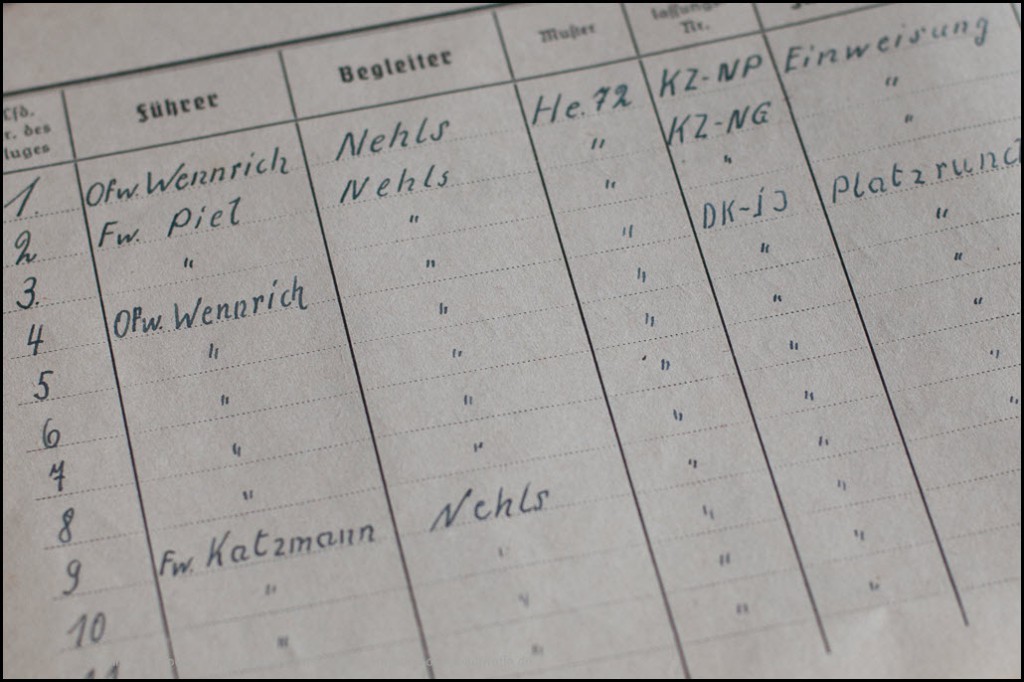 This is one of two logs that exist – I will share the whole set of information with you in a few weeks. He started his flying career most likely with FFS A/B 33 in Quackenbrück although the airfield in the logs reads "Einhof". This – most likely – refers to the airfield of Hopsten (where parts of the FFS A/B 33 were located), and old maps indeed show a larger building at the northern end named "Einhof" – maybe a nickname for the airfield, maybe just the place where he took quarters… who knows?
Helmut Nehls remains in this school until February 26, 1942 – a time frame in which he is logging 69 flights.
In September 1942, he is adding more flying time – this time with Bordschützenschule 1 in Rahmel (today Rumia in Poland, just west of Gdynia – the former town of Gdingen). Here, he is adding another 5 flights between September 10, 1942 and October 13, 1942 before he moves on to Fernaufklärerschule 3 in Perleberg.
Here, he converts to the Junkers Ju 88, flying with the school from January 13, 1943 to Februar 1942, possibly to Februar 8, 1942. At this time, he also joins the crew of a pilot identified as "Freudig". This is Ofw. Erwin Freudig, lost and missing in action July 21, 1943 over Bengazi/Libya.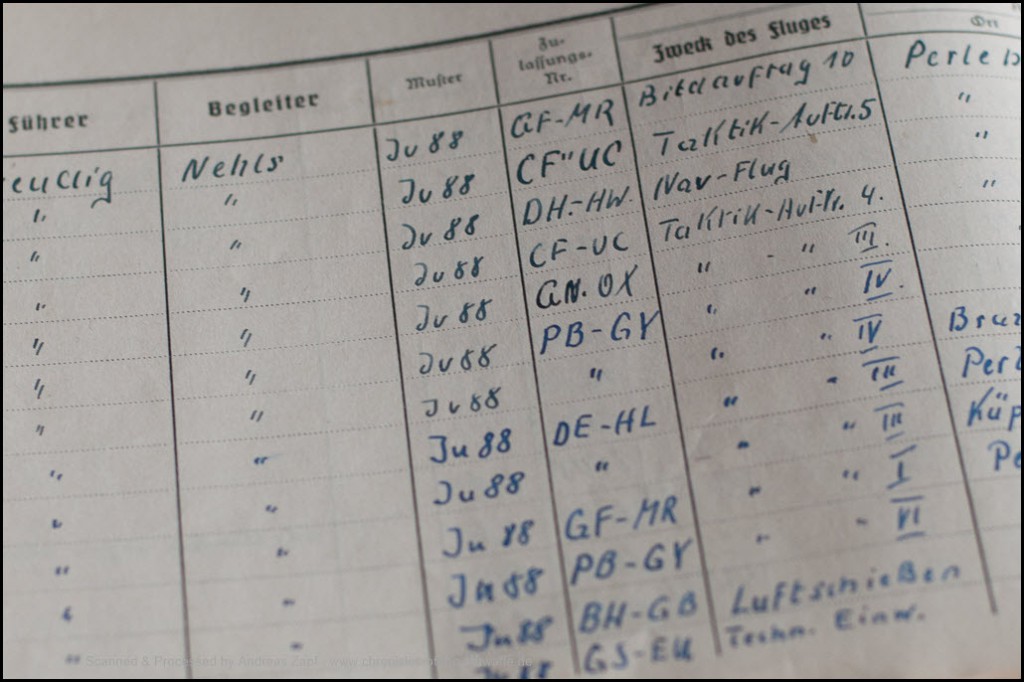 From that point on, school is over and the war catches up with Helmut Nehls. As of April 13, 1943, he is attached to the Ergänzungs-Fernaufklärungsgruppe and moved to Saloniki-Sedes in Greece and later – on April 22, 1943 – to the airfield at Athens-Tatoi. As usual, his flights were not yet real combat missions – the Ergänzungs-Units were used to "accommodate" the newly arrived crew and make them ready for the real action.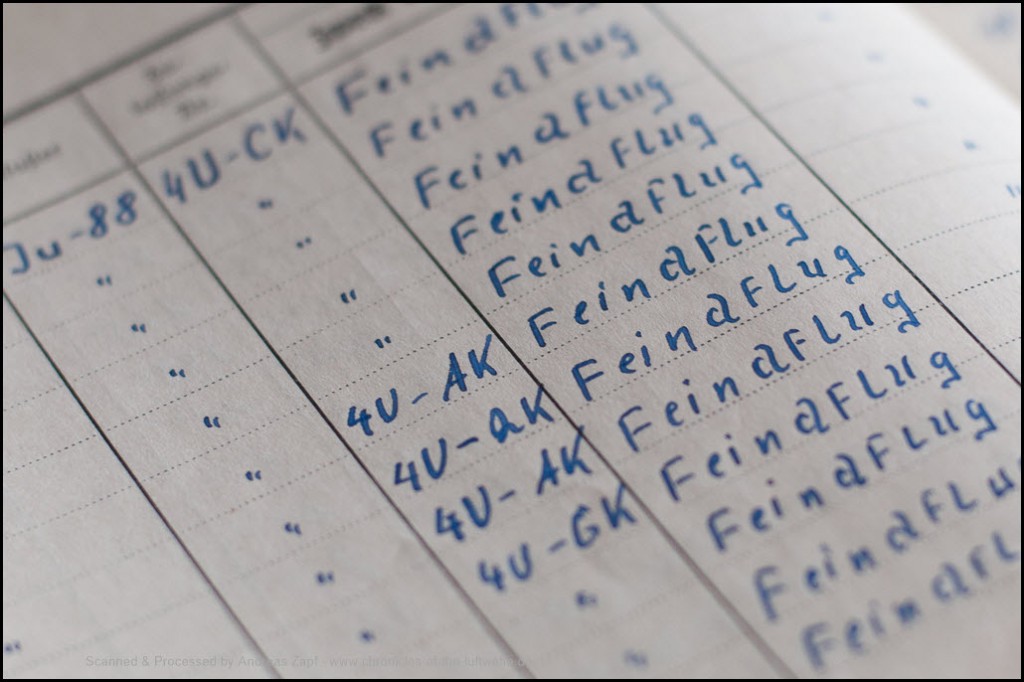 Starting May 10, 1943, Helmut Nehls arrives at the airfield of Kastelli on the island of Crete. From here, he logs his first combat mission on May 14, 1943 – a flight of almost 4 hours, taking him across the Mediterranean Sea to the port of Alexandria and Kap el Kanaiss (which I have yet to locate). From that point onwards, combat missions (long-range reconnaissance) with 2.(F)/123 continue on a regular basis – he is accumulating 10 missions until May 31, 1943.
The targets of the reconnaissance flights now move west, covering the North African Theater of Operations with targets such as Port Said, Derna, Tobruk, Bengazi and so on. The unit is moving from the airfield of Kastelli back to the airfield near Athens – flights into North Africa continue.
It is on July 16, 1943, that Helmut Nehls is flying a final mission with his long-time pilot, Erwin Freudig. Their aircraft: Ju 88 4U+CK, the flight taking them to Derna and Toburk on which they locate an allied convoy made of of 12 ships and 8 escorts.
Now – for reasons undocumented – his pilot, Erwin Freudig, is flying a mission with a different crew. His aircraft, a Ju 88 D-1 (WNr.: 430792) is on a mission to the Bengazi area from which they are not returning. Crew and aircraft are still missing in action. Helmut Nehls comments in his second (official) log with the words "Last flight with Erwin" on the flight of July 16.

Helmut Nehls himself is out for another four combat missions before his last one on July 26, 1943.
He return to the 3./Ergänzungs-Fernaufklärergruppe, located in Posen (today Poznań in Poland) before moving on to 3.(F)/33 in Königsberg/Gutenfeld, an airfield east-south-east of today's Kaliningrad.
Here, conversion training to Ju 188 is performed before the Gruppe transfers to Athens-Kalamaki airfield end of March 1944.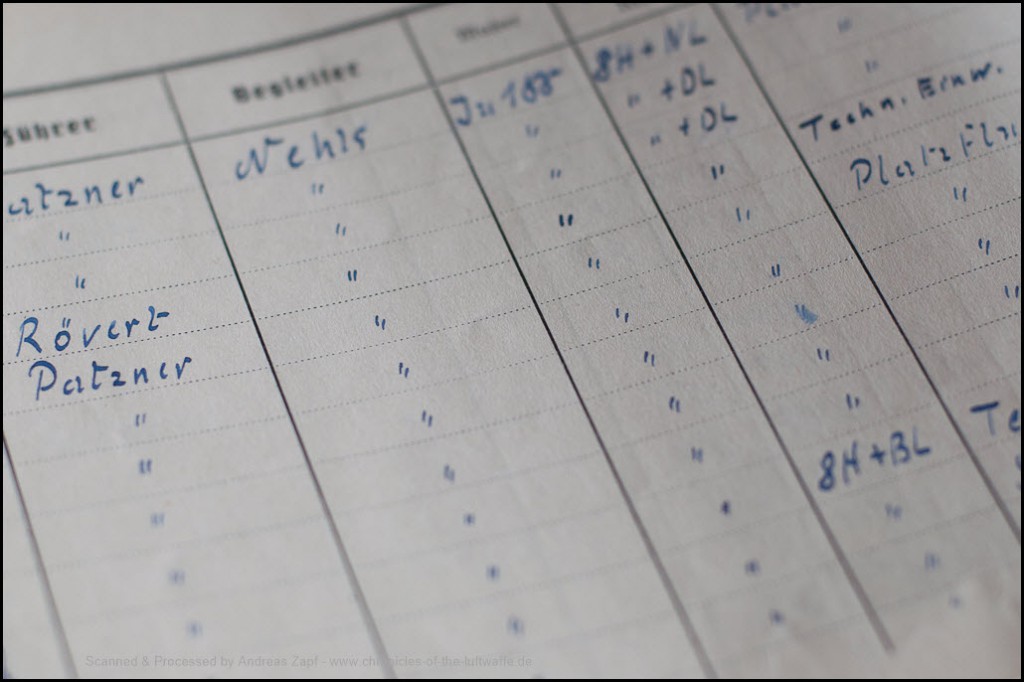 This is where the first flight logs ends – the second one continues through his second set of combat missions, again the Mediterranean Sea but also missions over Bulgaria.
By October 1944, the unit is withdrawing to the west, from the airfields of Skoplie to Wien-Aspern (Vienna), and finally ending up in today's western Hungary: the airfields of Steinamanger (today Szombathely) ans Sorokujfalu (a forward airfield just north of Sorokpolány/Hungary) This last flight concludes Helmut Nehls' World-War-II flying career. If he survived the war? I currently assume it – but I have no further information than offered here at the moment… maybe, these words spark some feedback by someone who knows more.