I have mentioned it before – I prefer to have access to "authentic" material when writing or illustrating my work. This time, eBay provided a possibility to get my hands on an original Luftwaffe navigation map.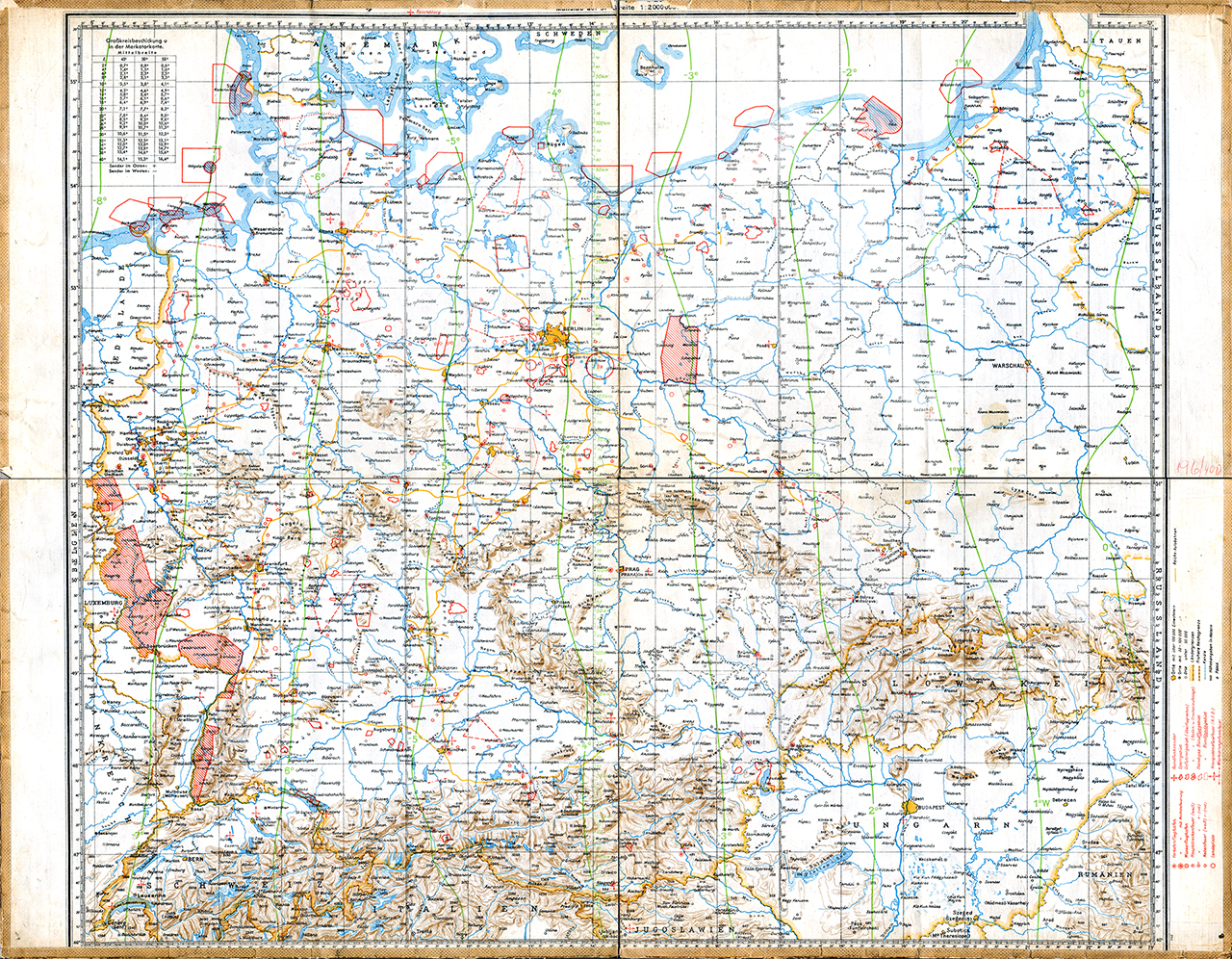 The map itself is not "new" in the sense that there would not be a couple of copies available electronically. This one has probably been cut and then fitted onto a piece of linen. Typically, it should indicate the publishing source – Generalstab der Luftwaffe – and the year it was published.
Unlike some other copies I have, this one does not have the Luftwaffen Meldenetz included – it also does not show any indication as to the date the information concerning the validity of Bodenorganisation – the ground installations of the Luftwaffe. I still assume that it has been published early in 1940, given the contents.
The map's legend is preserved – it allows us to distinguish the major (civil) airfields (Verkehrsflughafen) from those with night-lighting facilities (Verkehrsflughafen mit Nachtbefeuerung) and the Seaplane Stations (Wasserflughafen). It also shows the landing grounds (Landeplatz).

Quite interesting are the major airways – at a time where there was no GPS and radio navigation was in it's infancy, navigation uses ground-based light-beacons to mark the airways.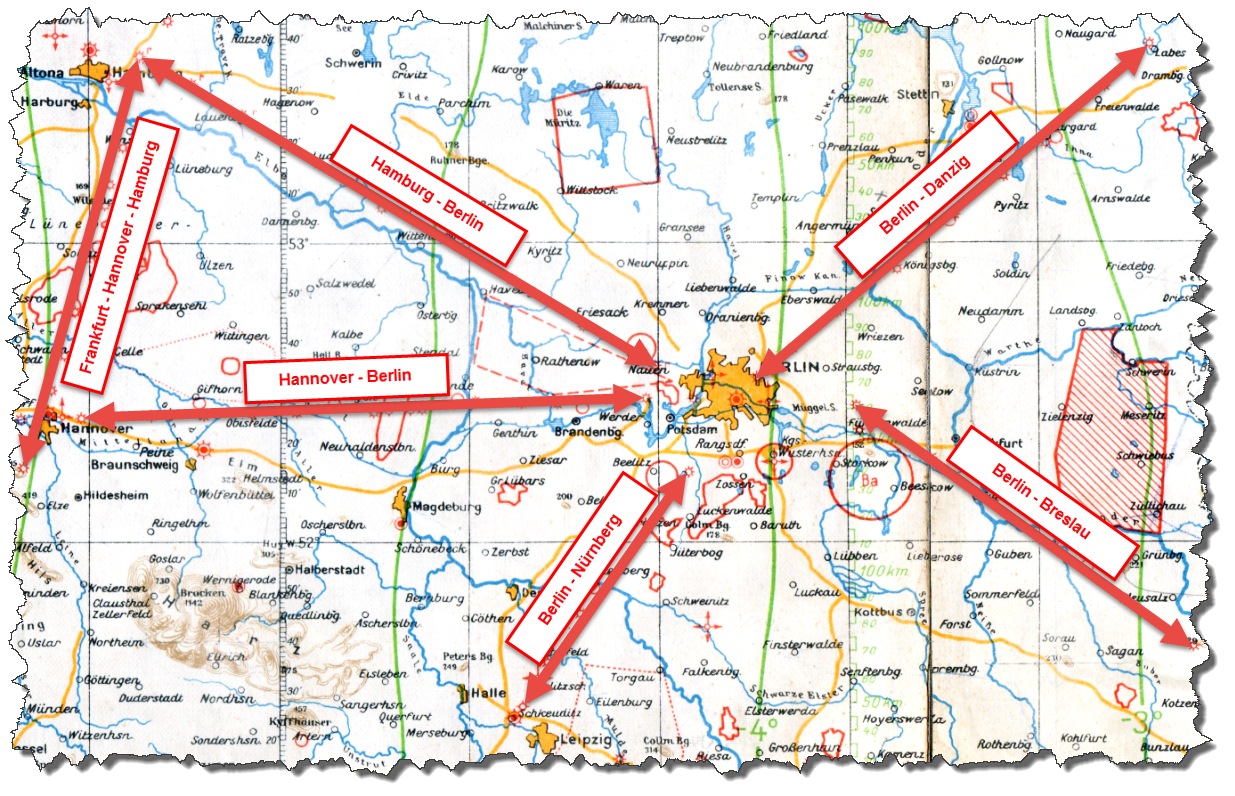 The image above shows the area between Hamburg and Danzig (Gdansk) in the north, down to Leipzig in the South including the major airways in the area (mostly to and from Berlin).
Next is the airfields and landing grounds on the map – it is not "all of them" in the area but here are the major ones: Berlin-Tempelhof (1), Rangsdorf (2), Stettin-Altdamm, Hamburg-Fuhlsbüttel (4), Hannover-Vahrenwald (5), Braunschweig-Waggum (6), Magdeburg-Süd (7), Wernigerode (8), Leipzig-Schkeuditz (9).
There are also some few landing grounds indicated on this map: Stargard (A), Gifhorn (B), Sachau (C), Weißewarte (D), Brandenburg-Mötzow (E), Lippen (F), Groß-Schönefeld/Pomerania (G), Wittenberg (H), Bad Frankenhausen (I).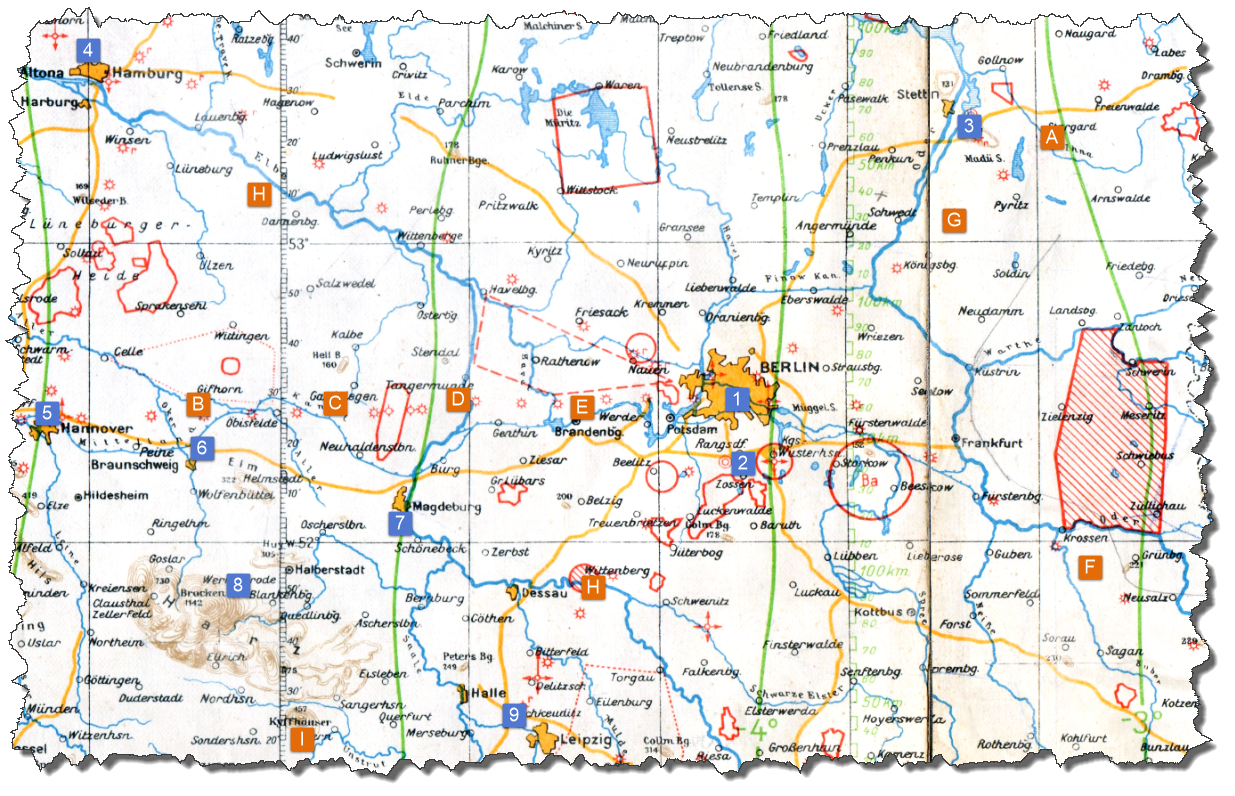 Many of these airfields are mentioned in the document "Der Reichsminister der Luftfahrt und Oberbefehlshaber der Luftwaffe – LB 4 – Az. 40 b 10 Nr. 540/39 (II A)", dated June 28, 1939, and held on file at the Bundesarchiv/Militärarchiv in Freiburg (Signature: RL 6/21). You can find a transcript of this file here (in German).
Obviously, those volumes of the full series "Flugplätze der Luftwaffe 1934 – 1945 – und was davon übrig blieb" are also covering those airfield that eventually were used by the Luftwaffe. For those able to read German, you can find more information here.